Again I have fallen behind in posting my pictures ... but here they are :)
January 19, 2010
Lauren's friend Kristen came to our home to visit and see baby Stella!
January 20, 2010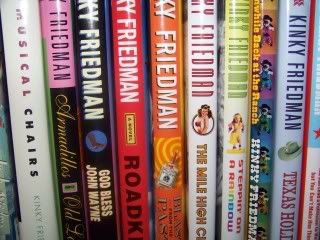 This is a picture of a portion of my book collection (this part is my Kinky Friedman mystery collection) ... I love books and if I could I would be surrounded by them. One day I'd like to have one of those libraries in my home that you always see in movies, lol.
January 21, 2010
My best friend Alex -- this guy definitely personifies home. He is there everyday when I get home and showers me with constant love. He's the best and pretty darn cute to boot!