Running a little behind in posting pictures, but here are the past 8 days (including today) -- it is a Stella week in pictures ... what's new, right?
February 14, 2010
My 1st Valentine socks!!
February 15, 2010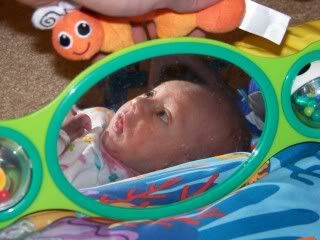 Stella in her mirror while she is "under the sea" :)
February 16, 2010
No caption can describe how awesome I think this picture is :)
February 17, 2010
Stella is really funny with how she holds her hands sometimes, lol.
February 18, 2010
I know this looks a little weird, but she's still my little angel :)
February 19, 2010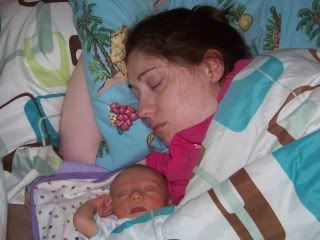 Mommy and Stella sleeping on my birthday --- I snapped this before going to vote in the primaries...
February 20, 2010
Snapped this with my cell phone on my way to class --- I found it funny and interesting.
February 21, 2010
Stella had her Simchat Bat which announces the daughter's Hebrew name (Stella's is Shoshana) and welcomes her into the Covenant of the Jewish people :) It was an awesome day!!