This week I have decided to post a new Hebrew word using the magnetic board with Hebrew letters Stella received as a gift.
February 28, 2010
Purim
: is a festival that commemorates the deliverance of the Jewish people living throughout the ancient Persian Empire from a plot by Haman the Agagite to annihilate them, as recorded in the Biblical Book of Esther.
March 1, 2010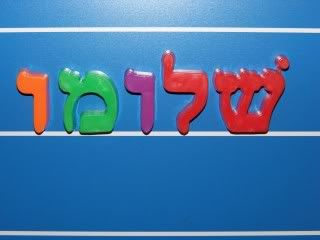 Shlomo
: this is my Hebrew name, which translates into Solomon.